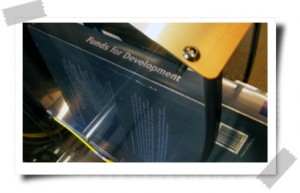 Books On Demand offers authors and publishers the opportunity to print just enough copies of their books – be it a novel, a chapbook of poems, your grandmother's journals, your family history, even a collection of old recipes – to satisfy demand, even a printrun as small as just one copy. You can even print a work-in-progress, uploading revised files and printing new versions at any time!
The EBM will transform your work into a paperback book complete with a full color cover, with black-&-white or colored interiors, indistinguishable from books produced by traditional publishers.
With the EBM, authors and publishers do not need storage space for their books, there will be no unsold copies, which means no extra costs or any wasted money.
The process is simple, easy, and fast: following our design guidelines, send us your finished PDF; we'll send you a quotation and when all is settled, you can either have your books delivered to your doorstep or you can have dessert and coffee in our office while you wait.
The EBM's EspressNet®
Authors and publishers can either keep their books private, or have their books be available around the world, at a negligible cost, wherever there is an Espresso Book Machine around. You keep all rights to your work while earning royalties for every copy sold, at a price you set yourself.
The EBM's EspressNet makes it possible for your book to be accessible to anyone interested in your work but who happens to live in another state or even another country. Our EspressNet program is included as part of our Standard Self-Publishing Set-Up. Should you elect to sell your work over EspressNet, all sales are tracked and payment flows back to you, the author, consistent with the consignment program offered by your EBM location.
EBM Shelves Program
EBM books on display at a library or bookstore are offered for sale as part of the EBM Shelves program (available at select locations). You set the retail price of your book and retain all rights to your work. You prepay the print cost, and when your book sells you receive the full retail amount less a consignment fee per copy.
Your readers can also order your book online and the EBM location will print copies on demand to fill their orders. For each book sold, the EBM location will retain an amount to cover print costs plus the consignment fee (varies by location) and remit the balance back to you. For more information pertaining to all aspects of the self-publishing program, simply contact Books on Demand to schedule an appointment.