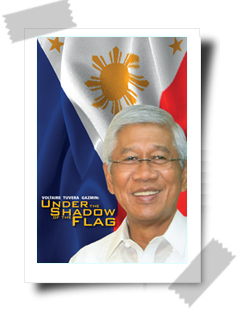 Introductory Offer! Php400
Voltaire Tuvera Gazmin: Under the Shadow of the Flag
Author: Edith Magtibay Garde
In November 2014, a long overdue book about the sphinx-like Gazmin was launched.
Voltaire Tuvera Gazmin: Under the Shadow of the Flag (written by Edith Magtibay Garde) follows the life of a man who would only reluctantly talk about his life. But this book runs counter to that characteristic humility. It recounts that life only because a group of people insisted on it being told, because there was a story.
In keeping with the manner and style of its subject, Under the Shadow of the Flag tells how Volts has been the self-effacing but well-respected soldier and field officer, the unwavering and inimitable military official, and the diplomat and public servant whose loyalty lies ultimately with the Filipino people. And most of the stories attesting to his qualities are told by the people who personally saw the man in action.
"Kailangan pa ba iyan? Is that necessary? Hindi na." That was Gazmin's initial reaction when his brother-in-law Gaudencio "Goody" Hernandez Jr. first broached to him, over lunch, the idea of a book about his life.
The private other half of his life is told as well among these pages: the loving husband and father who, despite the demands of his job, sought to stay as close as possible to his family; the firm believer in the tenets of the brotherhood of Masonry; and the grandfather of the twice-interrupted retirement who took his "apostolic work" (doting on his apos) very seriously.
President Noynoy Aquino describes Gazmin succinctly: "The bane of coup plotters, the foiler of superior forces intent on toppling democracy and plunging it back to the Filipino Dark Ages. Volts was and is a man of few words. He walks the talk and does not even talk a lot. He leads. What you see is what you get, there is no hidden agenda: he is neither yes-man nor blind follower, his allegiance is with the Filipino people."
To order a copy, please contact Books On Demand.
Tel. No. 632-5671
E-mail: [email protected]
Return to store.