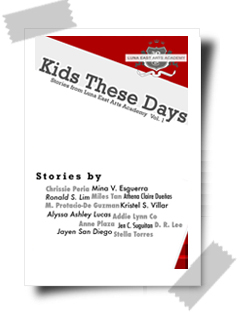 Kids These Days
Author: Chrissie Peria, Mina V. Esguerra, Ronald S. Lim, Miles Tan, Athena Claire Dueñas, M. Protacio-De Guzman, Kristel S. Villar, Alyssa Ashley Lucas, Addie Lynn Co, Anne Plaza, Jen C. Suguitan, D.R. Lee, Jayen San Diego, and Stella Torres
The stories from LUNA EAST ARTS ACADAMEY are about love.
And also, friends, food, kissing, rumors, mean people, insecurities, birthdays, breakups, making up. We set it in an arts academy because we wanted everyone to have a talent, and know it. Because no one is ordinary, if you know them well enough.
Who are you, at LUNA EAST? Are you a popular kid, a wallflower, a drama club diva, a debate whiz?
To order a copy, please contact Books On Demand.
Tel. No. 632-5671
E-mail: [email protected]
Return to store.