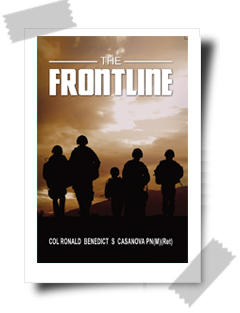 The Frontline
Author: COL Ronald Benedict S. Casanova PN(M)(Ret)
Indeed, so much have happened and been told about the exploits of each Marine but very few are written by those who experienced it. Stories of past incidents and events where lessons can be derived are mostly passed on by the "old Marines" to the younger generation of Marines. However, these lessons were often lost in time because they were not chronicled and collated. This book definitely captured those lessons.
The book is a firsthand journal of a typical life and experience of a Marine Officer assigned in the various conflict areas in Mindanao. The insights and content are all note-worthy because of the rich experiences shared by other Marines and that of the author himself.
For the civilian readers, this book can be a source of inspiration especially to the youths who are aspiring to become members of the Marine Corps or to lead Marines in the future as Officers.
For the Junior Officers and Enlisted men, THE FRONTLINE makes an excellent reading material for those who are about to start their tour of duty in the combat area. It is also a worthy reading material for those who want to increase their knowledge and insight on the various national security threats that continue to exist up to this day.
MAJ GEN REMIGIO C. VALDEZ AFP
Commandant, Philippine Marine Corps
To order a copy, please contact Books On Demand.
Tel. No. 632-5671
E-mail: [email protected]
Return to store.