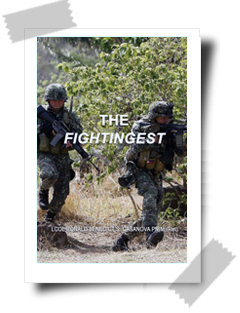 The Fightingest
Author: COL Ronald Benedict S. Casanova PN(M)(Ret)
Much accolades have been said and written about the vaunted discipline, professionalism and war fighting excellence of Marines. In no other period in history had the Philippine Marine Corps been exulted by the Nation more than during the Central Mindanao Campaign in the summer of 2000 where the 1st Marine Brigade, which I had the honor to Command, figured outstandingly. Although only attached to the Army's 4th Infantry Division, the 1st Marine Brigade spearheaded the 3-month long sustained combat operation (later to be known as the AFP's "All-Out War" in Central Mindanao.) The 1st Marine Brigade started off with the liberation of Kauswagan from the clutches of the MILF, captured series of enemy camps in the Lanao provinces and finally, bore the brunt of the fighting that led to the fall of the vaunted Camp Abubakar. Acknowledging the role of 1st Marine Brigade in turning the tide in favor of the government, BGEN ROY CIMATU AFP, Commander of the 4th Infantry Division (later the AFP Chief of Staff) in many speaking engagements, repeatedly referred to the Marines that landed in Cagayan De Oro City on March 16,2000 as "hulog ng langit"(God Sent)! — Foreword of LTGEN EMMANUEL R TEODOSIO AFP.
To order a copy, please contact Books On Demand.
Tel. No. 632-5671
E-mail: [email protected]
Return to store.