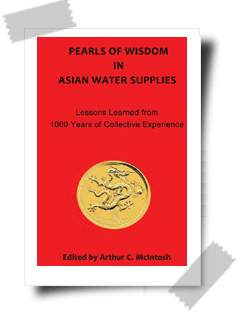 Pearls of Wisdom in Asian Water Supplies
Edited: Arthur C. McIntosh
This book is for those involved in developing country water supplies, who will likely be working for governments, utilities, consultants, donors, NGOs, academia or the media.
The key messages or "pearls of wisdom" are aggregated by the editor into common subject headings, including development in general, urban water supply, rural water supply, sanitation, water resources, capacity building, leadership, management, corporatization, privatization, governance, tariffs and the urban poor.
The 42 authors, coming from 19 countries, are engineers, accountants, teachers, sociologists, economists, contractors, politicians, farmers, journalists, scientists, anthropologists and entrepreneurs. They include giants of the water industry, such as Margaret Catley-Carlson, Ravi Narayanan, DipakGyawali, KamalKar, ArjunThapan, Tan Gee Paw, EkSonn Chan, ChuanpitDhamasiri, Anton Soedjarwo, RanjithWirasinha and Peter Rogers. Most have 20-30 years experience in the water supply and sanitation sector in developing countries.
The authors were asked to write about anything on which they felt passionate, on development in general, as well as the water supply and sanitation sector in particular. They could write a story, or just put down their thoughts on various issues. Thus, the book is not structured nor pointed in any one direction, nor by its nature was it ever intended to be.
The objective is to identify those very important elements of development which make or break water supply and sanitation projects and their long term sustainable operation. It is therefore both a reference and tool for anyone working in this sector in developing countries.
To download a read only copy, click here.
To order a copy, please contact Books On Demand.
Tel. No. 632-5671
E-mail: [email protected]
Return to store.