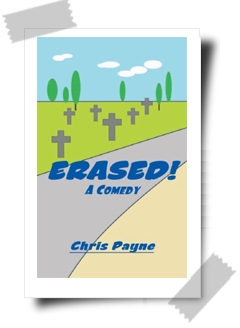 ERASED! A Comedy
Author: Chris Payne
Ken and Sonia are lecturers in a further education college whose principal, Morton Scregg, is a lecherous tyrant. One day, after a a drunken lunch, Principal Scregg falls down the college stairs to his death. As the last to speak to him, Ken is accused of his murder.
The death of Scregg and the injustice of being blamed for it is a turning point in Ken's life. He and Sonia come to realize that there is a market for an assassination business dedicated to erasing all the evil Scregg's of this world as a public service. At first the business goes well, and they get a steady supply of clients who are victims of everyday bullies, cheats and psychopaths.
But Ken and Sonia soon find out that the 'conflict deletion' profession is far more crowded than they had expected as they get drawn into a parallel universe of assassins and hitmen.
In a tense climax to this comedy thriller, Ken and Sonia are forced to commit the execution of the century, which they must complete satisfactorily and escape, or be 'erased' themselves
To order a copy, please contact Books On Demand.
Tel. No. 632-5671
E-mail: [email protected]
Return to store.