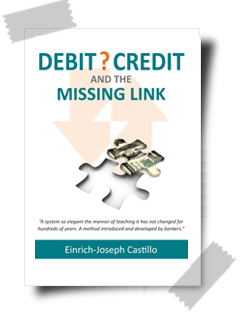 Debit–Credit and the Missing Link
Author: Einrich-Joseph Castillo
"What do accounting textbooks say about the debit and credit?"
"There is no other meaning attached to the terms debit and credit."
"Is there no simple way to determine where an entry should be made?"
"I can help you with that."
This book offers a non-traditional approach to learning and understanding the basic concepts of debit and credit. It also provides a fresh view on how the dual entry system originated. Aside from this, it presents and highlights a subtle logic why a debit is always a decrease, and a credit is always an increase. But this book is more than just the debit and credit.
To order a copy, please contact Books On Demand.
Tel. No. 632-5671
E-mail: [email protected]
Return to store.